About the
Author
Writing
Truths
Books &
Activities
Q & A
Great
Links
Papercut
Gallery
Bonjour! Goddag! Velkommen! Hola!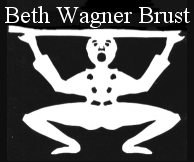 A universal Hello and welcome to the Web site of children's author Beth Wagner Brust (rhymes with "rust"). Browse around and you'll discover some truths about the mysteries of writing, bits about the author and her books, and links to tantalizing topics like the art of paper cutting, the Great Molasses Flood, wild animals, the Great Tulip Mania and much more.
The whimsical figures sprinkled throughout this site are from cutouts made by Hans Christian Andersen, the famous Danish author known worldwide for his fairy tales. To learn about this fascinating man and his surprising skill with scissors, read Beth's award-winning book, The Amazing Paper Cuttings of Hans Christian Andersen. To view a selection of his paper cuttings, click on Gallery. Enjoy your stay and then click on Links for related sites.
| | | |
| --- | --- | --- |
| | Great News! | |

Watch "QUIRKY, YES Trailer."
QUIRKY, YES is now international! The German edition was released in October, 2011.
"QUIRKY, YES--HOPELESS, NO" won a San Diego Book Award for Best in Education. Competing in the seventh largest city in America, my co-author and I are very pleased that our book received this honor.

Award-Winning Book for Parents, Grandparents & Teachers

QUIRKY, YES--HOPELESS, NO: Practical Tips to Help Your Child with Asperger's Syndrome Be More Socially Accepted by Cynthia La Brie Norall, Ph.D., with Beth Wagner Brust
St. Martin's Press, New York

This handy, A-Z guide about the most common issues that challenge children with Asperger's Syndrome offers specific, practical techniques to give parents and teachers hope and to help these kids cope. While there is no cure for Asperger's, there are ways to increase their social awareness and to teach them the people skills that do not come naturally. Dr. Norall shares her insights and hard-won wisdom from 20 years of experience diagnosing and working with thousands of Asperger's children as well as from starting the Friends' Club. Meeting weekly, the Friends' Club gives Asperger's children a safe environment to learn how to be less rigid, more flexible and better able to cooperate, compliment, and converse with others, which improves their chances of making friends and reduces their chances of being teased and bullied.

Temple Grandin said:

"This is a fantastic book for helping people on the autisum spectrum learn social skills."


Publisher's Weekly, 09
"Each useful, carefully worded entry addresses kids' behaviors and their parents' concerns, gives examples from real situations and offers suggestions for change or, as is often the case, acceptance. ...conversational in tone, full of insights and will help and encourage parents and their Aspie or high-functioning autistic kids alike."

Au revoir—Adios—Auf Wiedersehen—Aloha—Come back again!

| | |
| --- | --- |
| | Email |